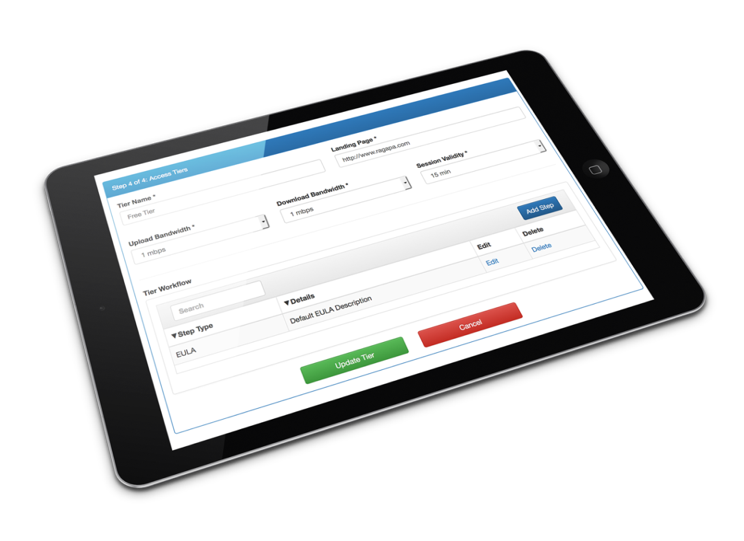 Bandwidth: A more reliable network with control over download and upload speeds for each user on your network
Session Limit: Control the duration of free Wi-Fi session users can enjoy on your network
Reliable and Fair Network
Network reliability is the number one priority for any IT managing a public facing network. A fair and predictable network performance automatically improves the network reliability. With CaptiveXS you can make sure your network is fair and its performance is predictable for each connected user. Right through the cloud-based management dashboard, you can control the download and upload bandwidth that each user on your network can use. You have the option to choose from 256 kbps to all the way to 25 mbps of speed for both download and upload speeds. Setting the download/upload bandwidth makes sure that each user can only use their fair share of the network and no one user can hamper experience for others by downloading excessive data.

In addition to bandwidth control the CaptiveXS solution also gives you the option to set the users' Wi-Fi session validity period. With the session limit, you make sure that nobody can stay on your network indefinitely. The network admin can choose anywhere from 15 minutes to 7 days as the session validity. For a coffee chain it may make sense to set the session validity to 1 hour while a hotel might use 7 days.

Once the session has expired the users must go through the login process again, which gives you an opportunity to monetize the Wi-Fi session again by showing them promoted video/display advertisement. In addition it also gives network owners a chance collect analytics on repeat vs. new Wi-Fi users on their network.