A captive portal is a Web page that guests who wish to access internet over public WiFi have to go through in order to be granted access. This is usually used by public venues that offer guest WiFi in return for customer authentication.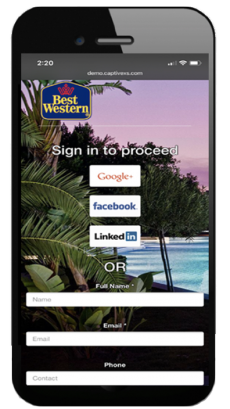 Over the past few years, we have seen how WiFi has transformed from an open Internet access network to guarded or authenticated access network for better security and user trace-ability needs. However, security generally comes with a trade-off with user experience. Ascertaining user identity without adding a layer of friction in the user experience is the key to this process.This led to our current day scenario – where a portal is used to acquire user identification. Erstwhile these portals mandated users to sign-up using their email IDs adding to friction in the user experience. Later on the portals have evolved to accept the social media logins of the users, making it simpler for users and also enabling the providers to gain more insights about the user.
Why are Captive portals so Important in a guest WiFi system?
To manage and control the public wifi users while providing them with an authenticated public WiFi network as well as confirming their identity. This helps prevent data theft and helps place terms and conditions on the WiFi access. Customizable access pages help raise brand awareness.
How this works
As a user, one has to provide their social media or other identity proof before getting to use public WiFi. Data theft is a major threat which is why Public WiFi providers have started to use captive portals as a way to counter that. With customised captive portals, customers no longer have to worry about the authenticity of the WiFi network. In turn, the provider gets customer data – patterns, peak times, demographics etc.
Why Vendors prefer it
It automates the entire process of identification without making it cumbersome for the provider. Data collection is also done without the help of the staff. It offers a wide variety of uses for the venue owner. Using it for offers, limited edition items, peak time behaviorisms etc. These are two of the most important points when a vendor offers free public WiFi while opting for a captive portal.
The Next Big thing
Having addressed identification
and data collection, it's time to take it to the next level. Using both these points, one can send personalized notifications and promotions that are more likely to be deemed as "helpful" or "informative" by the customers.
What started as a pureplay identity security requirements has transformed itself into a personalized marketing channel.
What else?
Well, the captive portal can display certain promotions, an avenue that can rake in some bucks for you. Since every user has to go through this portal, it makes for the best promotion space. As venue owners now have something in it for themselves, i.e. user data, it really changes the way promotions and ad campaigns work for a particular cafe.  As WiFi users expect more than just basic WiFi, a Guest WiFi solution can really change the game for you and your customers.
A solution which offers all of the above features and delivers more than you could have expected is
CaptiveXS- A solution by RaGaPa.
Have you gotten your Guest WiFi solution yet?