If you are a marketing manager, head of the customer experience or head of operations, you probably already know what is monetizing WiFi in general. The roadmap for WiFi monetization can get confusing when you initiate three-way discussions. Firstly with your WiFi service operator, then with internal IT/ infrastructure teams and lastly with the business (marketing) groups. It is necessary that we need to look at monetizing WiFi from these three perspectives, but it may not be enough to put together a solid business case. The fourth perspective to monetizing WiFi is looking at things from the end user's (visitor's) angle so that they receive great experience while being online with you.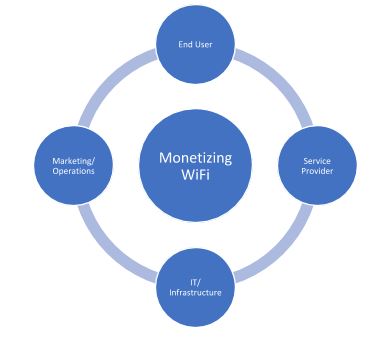 Monetizing WiFi is about turning your guest WiFi or public WiFi into a sales channel that is capable of promoting offers at each level.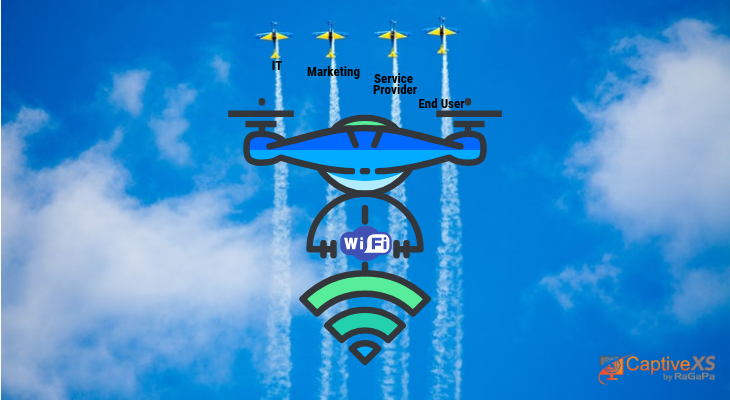 Monetizing WiFi: A WiFi Service Provider's Perspective
WiFi operators provide WiFi monetization as a service coupled with the necessary Internet enablement. They do so by partnering with their technology providers of WiFi addon solutions. These solutions include the ability to capture social details of the visitors as part of their login process and then promote the visitors with own offers or 3rd party offers. Service providers may host their own ad network where venue owners and advertisers connect and bid in real time for ad spots. Monetization benefit is in the form of direct business to you from the advertiser after deducting service provider's commissions.
Monetizing WiFi: IT Perspective
IT organizations find WiFi infrastructure of specific interest. Monetization of IT assets began a while back with IT services offered at a price to the end users. WiFi technology became quite well adopted by the end users in a quick timeframe thanks to the ample avenues of engagement for end users over the Internet. IT looks at monetization from the perspective of limited, capped, or unlimited access to Internet services over WiFi. Providing a free WiFi service at a minimal speed for email and browsing has been a well-known IT model of WiFi monetization. People who have a dire need of better Internet speeds, reliable network for their business or study spontaneously upgrade to higher pack over guest WiFi for a fee. Apart from bandwidth capping another most common mode of monetization of WiFi by IT is around whitelisted services enabled over Internet e.g., IT may not let YouTube be accessible in a free WiFi, but for a small fee, visitors may unlock YouTube. This pricing is relevant if there are longer waiting times at the venue, and the visitors are actively looking for options to engage themselves over the Internet.
A Measure of ROI for IT
The direct ROI for IT in WiFi monetization is aggregate payment received from end users in return for upgraded WiFi service.
Monetizing WiFi: Marketing Perspective
Marketing managers look at monetizing WiFi from the number of engagement and re-engagement opportunities that WiFi marketing created for them. This engagement opportunity could be simply the amount of visitors' data points that the company has, and campaigns/ offers that they can create to engage with these visitors in the future. Marketing team brings in the perspective of a better experience to the end users, WiFi analytics, and end user engagement so that users go through the funnel of offers.
A Measure of ROI for Marketing
The direct measure of ROI for marketing in WiFi monetization is orders received/ payments received from offers promoted through guest WiFi. An improved brand visibility in terms of customer recall is an ROI in the long run that marketers can fetch with WiFi monetization project.
Monetizing WiFi: Operations Perspective
Operations manager looks at guest WiFi monetization from a cost-saving perspective. Use cases for the operations manager are simply the ones where they can replace a human service element by WiFi's virtual assistance to the end users. Users looking for directions to a specific place could be guided by precise on-premise guidance system based on access points. Users looking for buying specific products or goods can order over the guest WiFi portal or landing page instead of queuing up at the cash counters.  
A Measure of ROI for Operations
A measure of ROI for operations in WiFi monetization technology is the number of working hours saved, and speed of service.
Monetizing WiFi: End User Perspective
End-user is a valuable perspective to be considered whether you are from marketing, operations, or IT. People do not want to be sold to, but they love to buy
. Monetization of your guest WiFi is not on the priority of your end users. End users are looking for engagement with relevance while they are online. End users are used to auto-connecting a guest WiFi as soon as they reach the venue. End users are comfortable in using their social ID to login to guest WiFi. They get mesmerized with the venue's ability to relate to what they are thinking. Visitors are looking for options to grab the best offers on your merchandise or other's as long as they need it or it is an irresistible offer for them. End-user perspective ties back all the ends of WiFi monetization together. The measure of excellent WiFi service for end users is that it has good speed; it is reliable and provides a fantastic experience in terms of best offers and assistance.
Monetizing WiFi is a holistic strategy and roadmap for any organization, aligning it across these four essential perspectives provides an accelerated path to ROI realization on your public WiFi. RaGaPa has been creating value for its clients such as the New York Racing Association
by aligning across these four forces of guest WiFi monetization.