Wi-Fi monetization should allow venues of all sizes to generate more revenue from their investment through Wi-Fi marketing. Scale is important not only for venues with several locations and hundreds or thousands of APs, but also for those with only one location and less than ten APs. Why? Because smaller venues have fewer employees, they cannot afford to hire a specialized crew to manage the Wi-Fi monetization system. In this post, let's see how your Guest Wi-Fi can be monetized using a Cloud Managed Dashboard.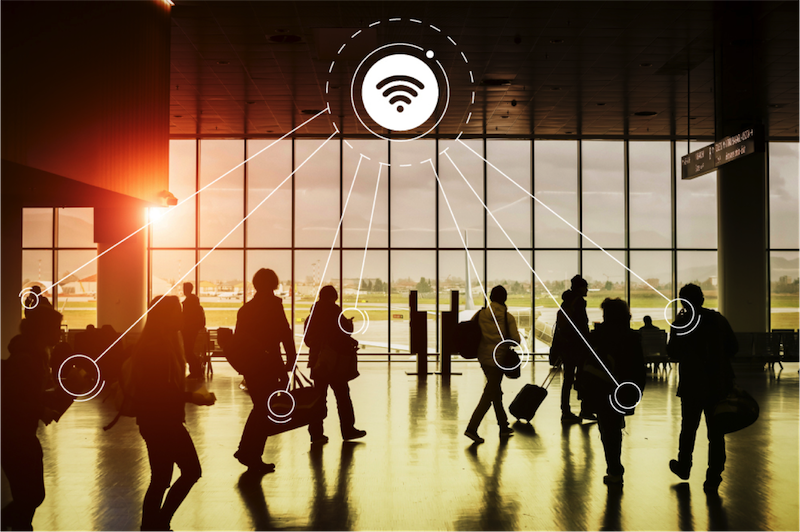 Cloud Managed Dashboard
In a Guest Wi-Fi system, scalability is a feature that may be provided through design. The engineering solutions that are created to tackle problems end up becoming a roadblock for company operations. The use of a Guest Wi-Fi service is no exception. The Guest Wi-Fi solution, which requires marketers to manage features and obtain information across several platforms, is inadequate in generating ROI. We've seen that marketers are content to manage marketing solutions such as Guest Wi-Fi monetization solutions on their own as long as they are easy and strong enough to provide them complete control.   
The Wi-Fi administration experience is made easier with a Guest Wi-Fi solution created with a design that allows marketers to control all of the Wi-Fi elements of marketing remotely. The cloud-based dashboard enables marketers and operations managers to take complete control of Wi-Fi monetization. A continual ROI assessment is required for Wi-Fi marketing to be successful. When the team in charge of Wi-Fi marketing isn't reliant on other departments or providers, ROI visibility and monitoring are exact.The power of a cloud-managed Guest Wi-Fi solution lies in its ability to configure Guest Wi-Fi across APs and different locations in under a few hours by utilizing a single dashboard.
It's Features
A cloud-based management panel should allow you to handle all Guest Wi-Fi marketing elements. Captive portals at various venues or at different times of the year at the same location, for example, may need to present different display/video adverts — this is easily controlled with the cloud managed Guest Wi-Fi dashboard. A cloud-managed dashboard can efficiently handle content filtering in real time across venues.
Authentication Levels
Configuring several levels of user authentication on a Guest Wi-Fi solution is easy with a cloud-based dashboard. The option to set an additional level of authentication for venues makes it easier to immediately reinforce access rules. Other security capabilities, such as preserving device and user profiles, and enforcing authentication requirements based on those profiles through a cloud-based dashboard, assist IT managers in taking control of the Wi-Fi infrastructure. The biggest bandwidth hogging device at the venue may be identified using a cloud-managed dashboard, which allows administrators to restrict the bandwidth properly.
Analytics Dashboard
If you can collect all of the visitor profile and behavior data on the cloud dashboard, in addition to managing all of the capabilities of the Guest Wi-Fi solution, it helps you make data-driven marketing choices rapidly. When presented in appropriate descriptive analytics dashboard formats, data points such as user inputs, user clicks, impressions, user device type, browser type, forms of login, identifying new users from repeat users, knowing domains that users are visiting, and number of logins over time are all useful. The true strength of a cloud-managed Wi-Fi monetization solution lies in its ability to display all of the data and insights it has gathered.  
The descriptive analytics from a well-designed cloud-managed dashboard may be used in three ways:
On the dashboard, you may see metrics.

Emails with reports can be downloaded or scheduled.

APIs may be used to connect data into CRM, campaign management, and other applications.



The Wi-Fi monetization system should be able to track probabilistic data points in terms of heatmaps, footfall tracking, presence analytics, location, and proximity analytics in addition to deterministic data points. Users who may not have signed into the Guest Wi-Fi but were in close vicinity to one of the Wi-Fi APs might be included in the statistics. It's useful in Wi-Fi monetization to capture device information like Mac, IP, status, and user profile, as well as end-user information, to target offers and promotions correctly.





We hope these insights will help you make a difference to your business. We would love to hear from you. If you have any comments, suggestions or queries you can get in touch with us at

info@ragapa.com

s