Just like there is no "one size fits all" strategy in content marketing, in monetizing WiFi networks, the marketers can't rely on only one approach. WiFi marketing is moving towards hyper-personalization for effective monetization. Whether you are a small or mid-size venue business or a large multi-venue business, the kind of WiFi monetization solution you build will differ in their respective strategic approach. Most WiFi monetization platforms would tend to focus on one aspect of monetizing WiFi networks. WiFi monetization fails to deliver the expected returns due to a point solution approach. With decades of experience in this space, we believe that marketers can't achieve WiFi monetization with just a single strategy. The marketers have to enable multiple WiFi engagement strategies to get the monetization campaign going on WiFi networks.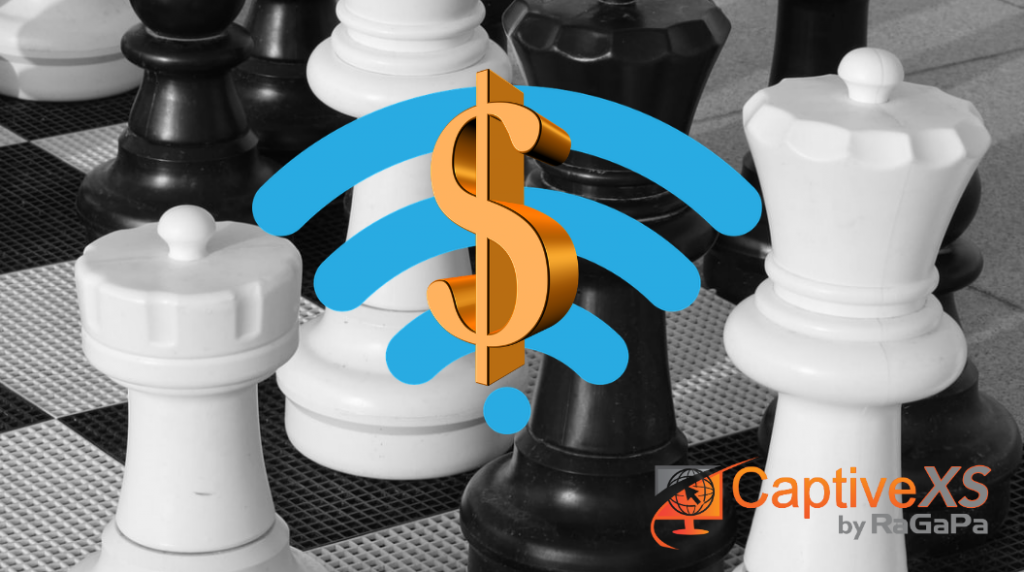 3 Marketing Touchpoints
You can explore and leverage three specific WiFi marketing engagement touchpoints from the moment an end-user comes onboard the guest WiFi until they go offline.
Touchpoint 1 – On-boarding via Captive Portal
At this stage, the user connects to the WiFi and sees a splash page for logging into the network. The role of the captive portal is crucial in delivering a state of the art customer experience over WiFi. Effectiveness of WiFi marketing hinges heavily on the customer data collected from the end-users, and the captive portal does this job effectively. Captive portal helps marketers do social login, enable WiFi monetization features, take surveys from users and also accept payments for enabling paid tier of WiFi. This stage of engagement allows building an entire user journey over WiFi for the end-user.
Touchpoint 2 – In-session Engagement via Content Insertion
Many monetization solutions are likely to ignore engaging end users beyond the captive portal stage. While customer engagement at the onboarding stage is like the seeding of WiFi marketing, the in-session engagement is the point where you can reap the benefits of WiFi monetization. With the help of contextual content insertion on users' browser, you can effectively promote relevant content or ads on the WiFi network. In-session promotions close the loop of the WiFi engagement model for the end-users at the venue, serving them throughout their journey on-premise.
Touchpoint 3 – Post-session Engagement via Analytics
Most marketers and WiFi marketing solution providers tend to stop thinking about monetization post the captive portal and in-session. Engaging customers off-premise is helpful for the brand to be in sight. The power of post-session engagement lies in bringing back your venue visitors with the help of highly personalized promotions. You can engage the end-users with the help of Email, SMS, Newsletters, or App notifications. WiFi Analytics plays an extremely crucial role in coming up with contextual promotion opportunities. Marketers use the WiFi analytics data with CRM integration to conceptualize, design, and execute other marketing campaigns to engage their users.
An excellent WiFi user experience is a function of being available on these three touchpoints put together. As a WiFi marketer, you should insist on a guest WiFi solution that helps you engage your customers on each of these three marketing touchpoints with the help of user data analytics. Marketers should look at monetization of WiFi networks as a holistic and blended marketing strategy instead of just a point solution.
CaptiveXS is the WiFi monetization platform by RaGaPa for venues of all sizes. CaptiveXS employs innovative techniques to deliver fantastic WiFi customer experience, along with robust guest WiFi security. Contact our guest WiFi consultants today for a free consultation on monetizing your WiFi networks.